Why is there an exodus?
Click here to view the video introducing Ratio Christi

What is Ratio Christi? To learn more about Ratio Christi and its mission click here. If you would like to make a donation or be a sponsor for our Ratio Christi Student Apologetics Club at Germanna click here
Ratio Christi Germanna Update: Ratio Christi at Germanna Community College is NOW a recognized club by the college! Thank you for your prayers
Rob Lundberg is serving as the Chapter Director & Community Apologist for Ratio Christi at Germanna Community College & the University of Mary Washington, located in Fredericksburg, VA.
Welcome to roblundberg.org
We live in a post Christian culture that rages with the secularization of religious ideas and institutions, cultural and religious relativism, secularist postmodernism and multiculturalism. Truth has come under attack to where it is now challenged as being absolute and accepted as relative. The age old question that was asked to Jesus by Pontius Pilate is still the same question with us today, "What is truth?" And like Pilate this question is still nagging in the hearts and minds of many. The impact of this wreckage is evidenced by an exodus 75-88% of our youth from the faith Where is the exodus coming from? It is coming out of Christian homes, where many have not taken ownership of the faith which is being taught and hopefully shared and handed to them.
How is this so? It is because Christian teenagers and college students today are faced with challenges to their faith almost everywhere they turn. The pluralization of religions is muddying the waters to where all religions are communicated to our kids as saying the same thing. Challenges like these along with the challenges of lifestyle choices and abortion rights, OR challenges coming from their peers who may be embracing the homosexual lifestyle, various occult practices, atheism, or some other form of skeptical worldview, Christian students are faced with the constant rejection of their worldview.
What is even worse is when they are often found lacking the necessary skills and information in order to give a reasonable answer to the objections that are confronting their faith and vying for their attention. In such an age of confusion and chaos how does one find answers to life's deepest realities and questions? Ravi Zacharias says, "We a have right to believe anything but not everything we believe is right."
Rob Lundberg is an apologetics and worldview instructor with a passion and purpose to equip students to know God's Word and defend their faith in their schools, their workplaces, and in their everyday interactions with strangers, friends and family.
If you are interested in having a presentation during your youth group meetings, at your Christian summer camp, a collegiate ministry, or if you are interested in a weekend conference or workshop, Rob would love to partner with your church or group to train your students to know how to defend their faith, reach their friends and boldly proclaim the gospel of Jesus Christ to a world very much in need of Jesus Christ as their Savior.
Please take a look around this website and feel free to contact us for more information or to ask a question. Rob and the team are here to support and encourage the local church as "she" seeks to make disciples, who are well grounded in their knowledge of Christ, the truth claims of the Christian faith, and the Word of God. 
---
Feature Video: Responding to the Faulty Definitions of "Faith" Coming from the Popular Atheists
If you have a question that you would like Rob to answer, please send your question to rob@roblundberg.org. The purpose of our video ministry is to share with you answers to interesting and perplexing questions and challenges to the Christian faith.
---
ARE you are a Pastor or a Ministry Leader in your church?
Can I ask you a few questions?
Q #1: In the past year, what have you stopped doing to communicate and defend the faith? What have you started doing? Why? "How could apologists assist you in reaching the lost and educating the flock?"
Q #2: Over the long-haul, what questions or issues do you see undermining peoples' ability to stick it out with Christ? How can we as apologists help?
Q #3: What are the greatest obstacles preventing the average church and Christian school (K-12 and undergrad) from being more involved in teaching apologetics? What steps can be taken to overcome these obstacles?
We are seeing a growing interest among people, who are expressing a desire to learn and grow in their understanding of the Christian faith. We are thinking upon a visionary idea: The Fredericksburg Apologetics Project.
This is a "visionary idea" with a goal to provide a place where 'budding apologists,' as well as those who are interested in learning more how to respond to the culture. Iron sharpens iron and information is shared coming from those on the front lines of our local culture and across the country. So if you have an interest in this project OR you would be interested in hosting a get together to learn how to defend your faith and discuss a topic confronting the Christian faith, you can contact us by email or by calling 540.424.2305. You can also find more information here or on our Facebook Group page.
---
Who Am I?
Say What?
Places Spoken
My Mission/Vision
What Do I Believe?

Rob is "attached" to the following ministries:
Christian Apologetics Alliance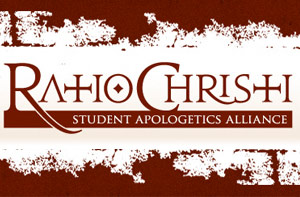 Ratio Christi
Did You Know?
That atheists, embracing the "popular atheism" are seeking you out in a cordial attempt to try and rip your faith right out from under you? How will you fair in a dialogue?
What will you say when you do not have answers or insufficient answers?
Let us help you in learning how to defend your faith against the coming assault. Use our Contact link and send your questions, requests, invites to do training. Let us help you!